West Bloomfield's Premier DUI Lawyer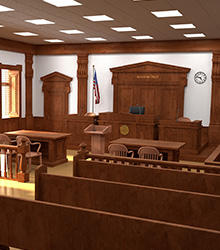 Are you facing drunk driving charges? Experienced DUI attorney Marcel Benavides offers aggressive DUI representation in the West Bloomfield area. With over 15 years of experience handling complex criminal cases and successful court record, Marcel Benavides is not afraid to fight for justice. You can be sure that your case is being handled by an experienced representative when you hire The Marcel Benavides Law Office.
If you've been charged with a crime at the federal or state level, it's important that you become familiar with your rights. We'll take the time to inform you of your rights, explain your options, navigate you through the legal process, and tailor an effective defense that fits the unique needs of your case. To learn more about your specific case and how Attorney Benavides can help you, do not hesitate to contact our firm right away!
In his 15 years of experience, Attorney Marcel Benavides has:
Successfully represented hundreds of criminal felony and misdemeanor cases
Obtained one of Michigan's highest settlements for a police misconduct case
Conducted countless independent investigations that resulted in dropped charges
Vindicated clients accused of murder
Received not guilty verdicts on criminal cases that seemed to be impossible to beat
Received several high seven-figure settlements in civil police misconduct cases
Never been afraid to aggressively defend the rights of all clients
Personally dealt with all cases that came into the office
Worked as in-house trial legal counselor for the Chicago Police Dept.
West Bloomfield DUI Lawyer Defending Drunk Driving Charges in Michigan
Have you been arrested for driving under the influence, also known as OUI or DUI, in Southeast Michigan? If so, it is important to speak with an experienced criminal defense lawyer as soon as possible. At The Marcel Benavides Law Office, our team is devoted to vigorously protecting the rights, licenses, and insurance rates of individuals facing charges of DUI.
Many people fail to realize just how easy it can be to commit a DUI offense. Even if you do not feel intoxicated, just a couple of alcoholic drinks could lead to DUI conviction. After a DUI conviction, not only is your driver's license in jeopardy -- but you could be risking your rights and freedoms by failing to retain the aggressive defense representation you deserve.
Even first-time offenders may face serious repercussions such as:
Up to 90 days in jail
Fines not exceeding $500
License suspension for up to 6 months
Possible installation of Ignition Interlock Device (IID) at driver's own expense
Though you may have been arrested, do not assume that you will be found guilty. With the right legal counsel, you can fight the charges against you! You deserve effective defense from your lawyer, a proactive responsiveness from your legal representative, and, most importantly, you deserve a hard-hitting strategy that can comprehensively protect your rights. At our firm, we pride ourselves on offering all of these qualities to each and every client we represent.
Depending on the circumstances, the following defense strategies may be available:
Police misconduct
Violation of search and seizure laws
Unreasonable seizure at a DUI-checkpoint
Inconclusive evidence or sobriety test results
Improperly administered breath test or sobriety test
Personal health issues that may have skewed a chemical test result
With experience working with the Chicago Police Department, our attorney has an in-depth understanding of how law enforcement procedures work. We are not afraid to challenge a DUI or to contest the methods used by the arresting officer. Failing to act quickly after a DUI arrest could put your driver's license in jeopardy. We strive to put a stop to the suspension or revocation of your license, and most importantly, to safeguard your freedoms.
---
Successful Cases:
Marcel will be honest with you, work hard for you, and put you first.
Jul 28, 2014 - Anonymous
Client's Rating:

Marcel is one excellent attorney. He is very knowledgeable and was able to help me to better understand the complexities of my case. Marcel is more than competent in his own right, but because he has helped so many people and is regarded so highly by so many of his peers when you are working with Marcel you are working not only with him but also with his vast and far-reaching network of varied skills and expertise. Specifically, Marcel gave me many options to help put myself in a better position for my DUI case, to which I took full advantage of. He was there every step of the way helping me do every possible thing to improve my chances in my case. He always made himself available and truly was a pleasure to work with. It is because of him that I have been able to successfully move on from my DUI and attend medical school. Marcel will be honest with you, work hard for you, and put you in the best position possible for success in your case.
---
Get the Advice and Answers You Need Now - Call for Your Free Consultation
Have you been charged with drunk driving in Michigan? Do you have questions about your future? If so, you need to contact The Marcel Benavides Law Office and speak with a trusted representative from our team. Fill out our online form or call us at (248) 549-8555 today for your free case evaluation.